Granite is one of the most popular types of kitchen countertops. It's also a lot more affordable than many other stone countertop materials.
But that doesn't mean it's cheap.
Before you start shopping, you should know how much granite countertops cost. This will help you find the cheapest granite countertops without sacrificing quality.
We've put together this guide to help you understand the cost of granite and how to save when you're buying your new counter.
So let's get started!
How Much Do Granite Countertops Cost?
Granite countertops can cost anywhere from $60 to $100 per square foot. But the exact cost depends on what type of granite you get and who you buy it from in Denver. The average pricing of granite countertops is more or less in line with that of quartz. You should expect to pay anything from $2,000 to $6,000 for your entire granite counter installation.
However, this price has a lot of wiggle room—in both directions. Before you go shopping for your new countertop, you should consider a few things that can make the cost go up.
Things That Can Make the Price Go Up
The price for granite countertops per square foot usually includes the following things:
The granite itself
The labor fees
The installation
The delivery
A simple finish
This cost doesn't include any other products your countertop might need. For example, if you want any decorative edges, cutouts, or plumbing hookups, you'll have to spend more money.
Granite also has different grades. These grades rank the granite's color, shipping, availability, etc. Higher grades are also usually better quality than lower grades, but this isn't always the case. However, higher grades ALWAYS cost more than lower grades.
Don't forget about your current countertop either.
Before you can install your new granite countertops, you have to remove the counter you already have. This is going to make the total price go up even further.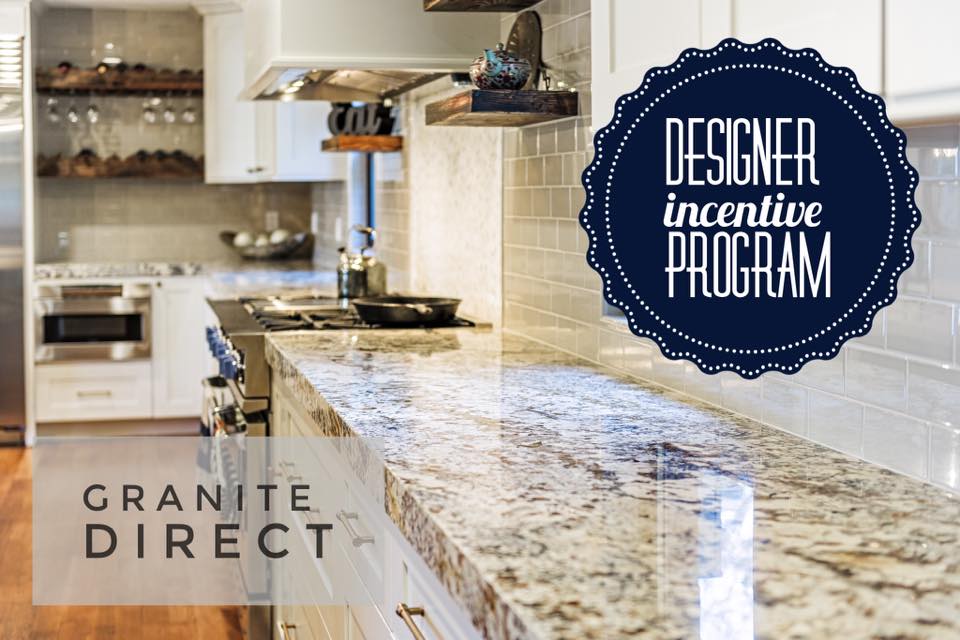 How to Save When Buying Granite Countertops
As you can see, buying granite countertops isn't cheap.
But don't let that discourage you. There are several different ways you can save money when you're shopping for granite. We've put together a quick list of the quickest, easiest, and most important methods to try below.
Shop Around
You should always shop around at a few different places before you make a final decision. This will let you compare prices and find the best option for your budget.
Visit at least three stores/manufacturers before you buy anything. You may want to find even more.
Pick a Common Color
The color of granite plays a big part in the price.
Blues, purples, and reds are rare, so they are often more expensive than common colors like white or green. Reds and browns are also harder than other colors, which makes them harder to cut. This will also raise the price.
So stick with light colors, such as white, beige, and green. These colors are common, and they aren't difficult to cut. Because of this, these colors make cheap granite countertops.
Buy Remnants
Remnants are pieces of granite slabs a previous homeowner didn't use. These remnants are often resold, and they're a lot cheaper than new granite.
If you have a small counter, you may be able to save a lot of money by buying granite remnants instead. But this isn't a good choice if you have a lot of counter space you need to cover. Otherwise, you could end up with a lot of unattractive seams.
Stick with Prefab
Prefabricated countertops are already cut to a specific size and polished. This means you won't have to pay extra for the installers to measure and cut the granite on-site.
But again, this only works if you have standard-sized counters. If your counters have a lot of corners or are an unusual shape, you might not be able to use prefabricated granite.
Make It Thinner
Most granite counters are 3 centimeters thick. You might be able to use 2-centimeter granite for your countertops instead. Since you're buying less material, you won't have to spend as much money. But you'll still get the beautiful look and functionality of traditional granite countertops.
Use Granite Tile
Granite tile looks almost the same as normal granite countertops. This means you get the look you want, and you get to save a lot of money.
But it's important to remember that granite tile isn't granite. It won't have all the same benefits, and it might look slightly different.
Double-Check the Measurements
Ask the installer to double-check their measurements at least once before they start cutting the granite. If even one measurement is a little too short, fixing the problem can be costly.
Consider Granite Overlays
Granite overlays are a mixture of granite and other materials like resin. This gives the appearance of granite, but it's a lot cheaper than the stone itself.
However, overlays aren't actually countertops. They are designed to go over the top of your current counter. Because of this, they won't have any of the durability or other benefits that come with granite.
Avoid Cutouts
The more cutouts you have, the more you'll have to spend during the installation process. If you can, avoid making cutouts for your sink, stove, washing machine, etc.
Sometimes you can't control this. But the more cutouts you can avoid, the more money you'll save.
Choose the Right Finish
You'll need to finish your granite after installation. This keeps it in good condition and protects it from heat, scratches, and potential stains.
But some finishes cost more than others. Instead of picking the traditional polished finished, consider using a honed or leathered finish instead.
Saving on Granite Countertops: Every Penny Counts
Granite countertops cost a lot of money, so every penny counts when you're trying to knock off some of the price. Choosing a cheap granite grade might help you save more money than choosing a different finish, but even the little things make a difference.
Looking for the best price on granite countertops?
We can help! Make sure you click here to take a look at some of our selection.