Do you feel like you're going in circles trying to calculate the cost of your new quartz countertops?
It's undeniable that quartz is a beautiful and durable option for kitchen and bathroom counters. But it can be frustrating to figure out all the hidden costs associated with installing it.
So how much do quartz countertops cost to install?
Many homeowners mistakenly assume they'll only have to pay for the cost of the quartz and a few hours of labor. And when they get the bill, they're shocked that it's hundreds of dollars above what they thought.
This scenario is avoidable when you know the most important factors that go into the installation of quartz countertops.
If you're ready to replace those old, run-down counters while staying within budget, and calculating the total variable costs, keep reading.
What Is the Average Cost of Quartz Countertops?
If you're paying someone to install your quartz countertops, you can expect to pay between $50 and $200 per square foot. The average cost is $125 per square foot.
For kitchens, the total cost of quartz installation can be between $3,000 and $7,500.
If you're only looking at the price of raw materials, the average cost for quartz countertops is $75 per square foot.
But remember that the price of quartz varies by brand, manufacturer, quality and sometimes by variety of color that you may select. This means that the cost of raw materials can vary anywhere between $50 and $200 per square foot.
There are three main quality categories of quartz:
Low-quality quartz is also called surplus quartz because it might be left over from higher-end projects. This type of quartz will have some visible veins and color that's not uniform. Surplus quartz will cost you between $50 and $65 per square foot.
Mid-quality quartz is also called standard quartz. This is a great option for those looking to balance budget and aesthetics. Standard quartz is commercial grade and costs between $65 and $75 per square foot.
High-quality quartz is also known as first-choice quartz. This luxurious quartz usually has no visible veins. It also has a rich, saturated color. This type of quartz will cost you between $75 and $200 per square foot.
While these prices may seem high at first, remember that quartz is one of the most durable materials you can use for your countertops, whether it's for kitchen countertops or a bathroom remodel.
Plus, quartz alone can take your home from average to luxurious, which is a huge bonus if you decide to sell your home later.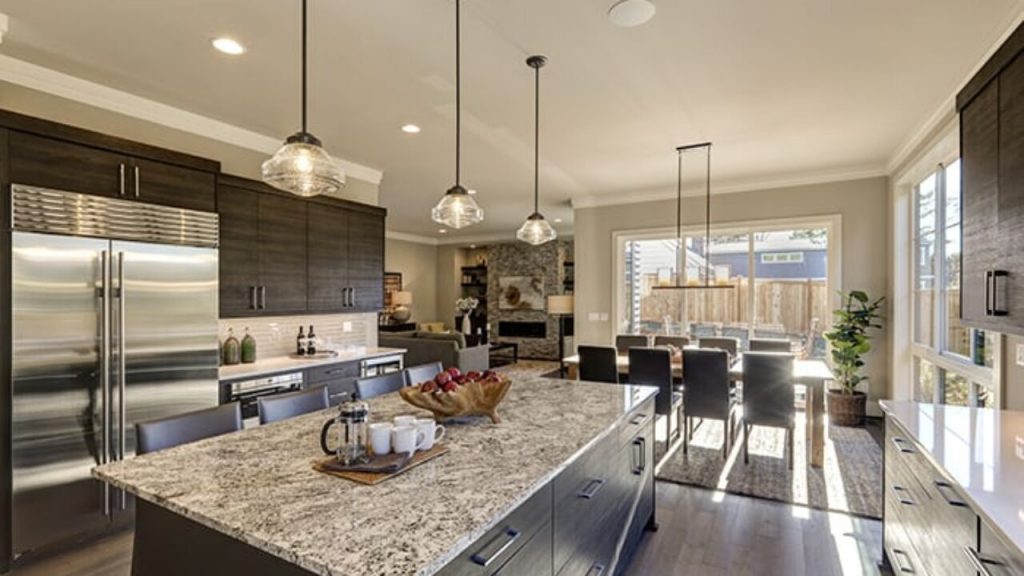 Installation Costs
The next crucial factor in determining your quartz countertop cost is the installation process.
There are two ways that contractors usually charge for labor costs with quartz countertop installation. They may charge by the hours worked or per square foot of quartz, they have to install.
So if you're paying someone to install your countertop, make sure to check their payment preferences before you start the project.
Hourly rates for countertop installation can range anywhere between $35 to $85 per hour. If your contractor charges per square foot, you're looking at between $10 and $30.
If you're installing the countertop yourself, you'll still have a few costs you need to factor into your budget. One thing to consider is that if you cut the quartz to the wrong size, you'll have to discard the slab and start over again. These costs can add up if you keep making mistakes, which can increase your total fixed cost.
You'll also need to rent out specialized equipment to cut the quartz yourself.
So even if it looks more expensive to hire a contractor, you'll save money in the long run if you're not experienced at countertop installations.
Other Important Cost Factors
Quartz countertop installation has several steps that can raise the price of your project.
Your first step is to choose the type and color of quartz you would like. Some quartz colors have special pigments, so they may be more expensive. You should also decide on the finish and edge of your countertop.
A fabricator will then come to your home and measure everything. He or she will make a template out of strips of wood. These strips will be glued together in the shape of your new countertop.
If you're replacing your sinks and faucets, you'll need to have these at home so the fabricator can measure them.
The edges, fabrications, and finishes you choose will all impact how much you pay for your quartz countertop installation.
Edges and Fabrications
Fabrications refer to how the quartz is cut to form the shape of your countertop. Fabrications include cutouts for your sink, cooktop, and electrical outlets. You'll need at least a cutout for your sink and maybe an outlet cutout for kitchens and bathrooms.
If you have multiple sinks or need a custom cutout for an appliance, this will drive up the installation cost.
Another essential step in fabrication is making sure that the edges are finished the way you want them.
Some manufacturers and fabricators may charge for different edge treatments, while some do not. If you have a specific edge type you'd like, always check if there is an extra cost for this first.
The two most popular types of edges are eased edges (slightly round on the top edge) and square edges. Because of their popularity, these edges may not come with an extra cost. But if you do have to pay for them, expect to pay between $5 and $30 per linear foot.
If you want to amp up your countertop design and go with a more custom edge, you're likely looking at some extra costs per linear foot.
Simple designs like half-bullnose, full-bullnose, and bevel edges are the most affordable. These can cost an average of $12 per linear foot.
More complex designs like French cove, Dupont square, and Cole Smith have more cutouts and edges. This is why these fancier designs cost an average of $35-$40 per linear foot.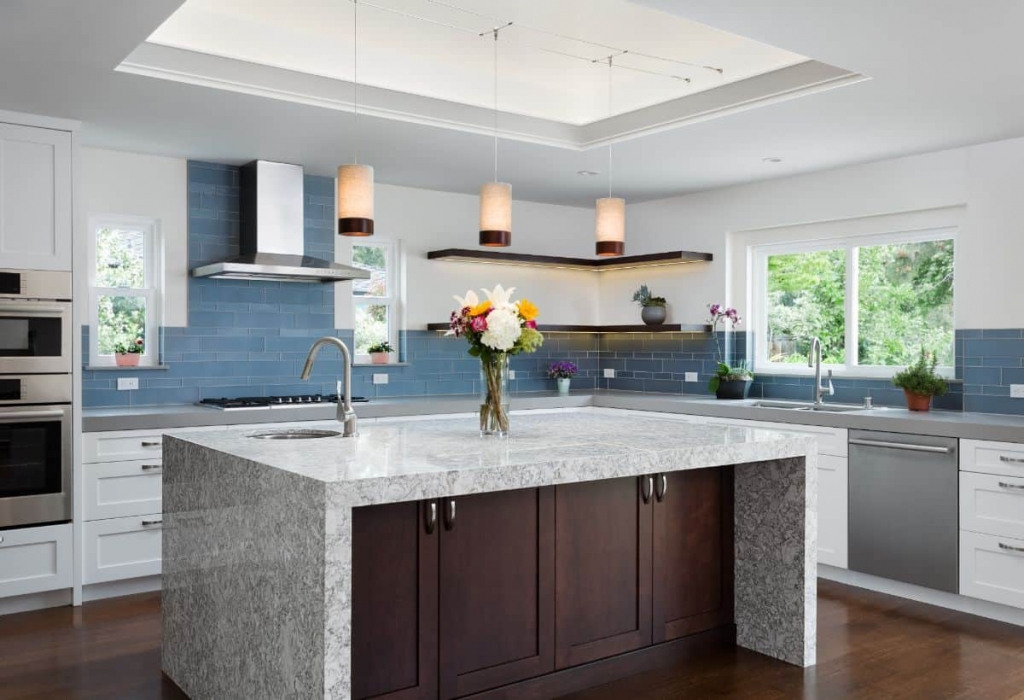 Finishes
The last step in fabrication is finishing the stone. This involves giving it a polish and perhaps adding a seal to make the counter scratch and stain-resistant.
The standard finish for quartz countertops is polished, but you can also get a matte finish. The most common type of matte finish is with quartz counters that are meant to look like limestone.
Polished and matte finishes usually cost similarly. The average price is between $60 and $80 per square foot.
If your home has a cottage or farmhouse design, then a matte countertop finish makes for a beautiful complement.
But keep in mind that a polished finish reflects light. This makes scratches and stains less visible than they would be on a matte countertop. So if you have kids or you cook a lot, consider getting a polished finish.
Keep in mind that while quartz and quartzite countertops have similar costs per square foot, they are different materials. Quartzite is a natural stone that resembles granite countertops. With quartz, a small percentage of it is man-made to add pigments and binding agents.
Leveling and Removal
These are two factors that homeowners often forget to factor into the total cost to install new quartz countertops.
Your old countertops can be very heavy, and you risk damaging your cabinets in the process of getting them out of your kitchen or bathroom. Paying a professional to remove them is a good idea, and your contractor may include removal in your quote.
The cost for old countertop removal is between $5 and $15 per square foot.
Another factor to add to your total costs is leveling the cabinets where the countertop will be placed.
This is because your kitchen island and/or bathroom cabinets need to be able to support the weight of the new countertop. If the cabinets aren't level, the quartz can warp in shape.
You can level your cabinets yourself, but you'll need some basic tools and you should know how to use a level. You may also need to install tapered wedges called shims to level your cabinets.
If none of this is familiar to you, it's best to get either your contractor or a local cabinet repair specialist to level the cabinets.
Delivery
The final element to include in your Denver kitchen remodel cost is the price of delivery.
If you pay a fabricator to cut the quartz for you, they will deliver the countertop with the necessary cutouts completed.
Make sure to ask your fabricator if delivery is included or if there is a separate fee.
The delivery fee will depend on how far the materials will need to travel. The cost for delivery ranges between $100 to $200 for each countertop.
How Much Do Quartz Countertops Cost to Install, Answered
We hope this article helped you answer the question "How Much Do Quartz Countertops Cost to Install?"
The average cost for purchase and installation will be $125 per square foot. This cost can go up or down depending on any finishes you get.
And if you're looking for the perfect quartz countertops to complement your home's renovated design, Granite Direct has what you need.
We offer materials directly to homeowners and contractors. This means you get premium quartz at wholesale prices.
If you're in the market for Denver countertops, send us a message or give us a call today!